Time to plant shrubs and trees
By Margi Lachman
Winter is fast approaching. We look forward to getting started and the normal rain. The weather is good for planting trees, shrubs and seeds from mid-September. The soil is warm, and the days are short.
As plants prepare for winter sleep, the growth above ground will slow down, but the roots will continue to build underground. These new plants will sprout next spring.
Harvest is a slow time for kindergarten sales, so many plants are often offered at discounted prices. That tree or shrub you like may be a bargain at the end of the summer. It will be weeks before she can move into her new home without the cold weather. During this time I have had great success in adding new plants to my garden.
Choose a place where the plant receives the right amount of sun or shade and make sure there is enough room after 10 years of growth. Make sure you can give extra water to the plant during the process.
Squeeze the plant in a bucket of water for 20 minutes before planting to reduce the shock. When the plant sinks, dig a hole the same depth as the pot so that the plant is at the same depth when it is in the ground. Double the hole to make the roots widen. Fill the well with water to check for good drainage. It should be poured in 30 minutes, otherwise loosen the bottom and add an inch of chicken or turkey fry and mix in the flour.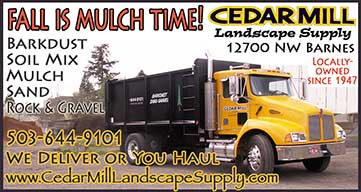 Gently remove the plant from the pot and inspect the roots. Trim any broken or rooted soil around the soil. They indicate that the plant is rooting and that it will continue to grow in a circle. Gently loosen the roots by trimming all the roots. Cutting them stimulates new root growth. Releasing them encourages them to grow in the soil around them.
Now you can add your tree or shrub and fill the soil around it, hardening the soil to remove air pockets. They watered around the factory and finished. As a decomposing layer, it helps to keep the soil moist and reduce weeds. Check weekly and water if necessary.
Your new plant should grow well next spring. Every tree or shrub should be watered once a week until a good root system is established.
Questions? Email me at margierose2.com or call me at 503-645-2994
Sale of THPRD native plant sales by pre-order only
Pre-order window closes Wednesday, September 15
Plant Picking: Friday, October 8 and Saturday, October 9, Tualat Hills Nature Park, 15655 SW Milican Road
These climate-resistant plants will improve your garden, making it more supportive of pollen and wildlife. Sparrowhawk provides information on thousands of native plants and their benefits. Choose from over 100 species of native plants.
Easy Guide to Falling Native Plant Sale –
Step 1 Pick your plants and keep them from August 15 to September 15. Step 2 – Choose the day and time you want to pick your plants (Friday, October 8 or Saturday, October 9). Step 3 – Visit the Tualatin Hills Nature Park to pick up your plants
www.sparrowhawknativeplants.com
Beware of Emerald Ash Borer (Agrius Planipenis)
From the Western Multinoma Soil and Water Conservation District Newspaper (visit the site to subscribe to their news)
Emerald ash is boring (Agrius Planipenis(EAB) A half-inch-long, majestic metal-green beetle native to Northeast Asia was introduced to the United States in about 2002, possibly in the form of ash wood used in trucks. The insect has since had a devastating effect on all natural ash and all species of ash trees in North America. It is currently found in 35 states, most notably the Midwest and Northeast and 5 Canadian provinces.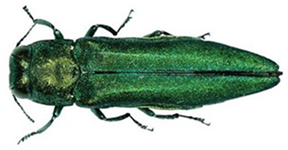 EAB distributed firewood, logs, or ash trees from kindergartens, as well as insect repellents. There is a high risk that these pests could jump from Colorado to Oregon through firewood, which has led to a proliferation of invading insects, which is why firewood is bought locally. EAB can cause serious damage to our wetlands, starting with Oregon ash (Frexicus Latifolia) It is the main tree that holds such habitats, and is very susceptible to attack by emerald ash.
Due to serious concerns, local partnerships – originally coordinated by the Oregon Department of Agriculture, and now the United States Department of Agriculture, Animal and Plant Health Inspection Service at the Portland Office (APHIS) – for insects in our region. As we became acquainted with the local landscape and met with local landowners, WMSWCD was requested to participate. WMSWCD is contributing to the effort by identifying collected insect specimens by deploying and testing traps in our woreda. These guidelines tell you where to set traps and how and when to check them. Read more about what happens if EAB is found in Oregon and see photos of how we test the traps.