After two years of the Covenant-19 epidemic, the annual visit of Stratford and District Horticulture Society to Stratford Gardens is returning from July 3 at 10:00 AM to 4:00 PM.
Text content
Katherine Robertson and Ross Crawford recently reduced their size and moved to a new suburb, and Robertson agreed to do what she could with her garden.
Text content
As an artist and retired chef of colorful flowers, vegetables and plants in her garden, creating the same natural beauty she enjoyed in her former home was a priority. The only challenge was to do it in a very small space.
"We have reduced the size and this is the third year of the garden," Robertson said. "I wanted a view, because when you enter a partition, there is only a fence to see (in the yard). … So we want to have something to look at. I am an artist and I paint flowers, so I have a lot of flowers in the garden. It is well-filled and I am good at combining colors and shapes and textures. እየ It is coming well. We have a lot of different species – some more rare species – and where every square inch hole has a hole I place the annuals, so it will look really nice.
"A lot of people do a permanent garden or an annual garden or just combine a few things, but I absolutely like it."
Robertson says she pays special attention to complementing colors and contrasting colors as well as leaf shapes and textures when planting, so she takes photos of the plant when it blooms and then draws large canvas from those photos during the winter. Plants are asleep.
As retired chefs, Ross and Robertson have small gardens and orchards in their backyard.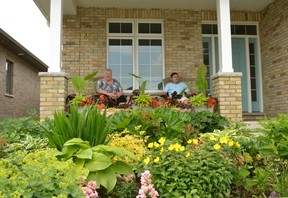 Ross and Robertson's front and back gardens are one of eight properties to be visited this year at the Stratford and County Vegetable Community Garden, which will be held on July 3 from 10 a.m. to 4 p.m. Canceled in two years.
Text content
"It's great to be able to do this together," said Ron Nicole, one of the organizers of the horticultural community and one who has shown the garden before. "It has been three years since we actually did that. We are all a little shocked that we are trying to do something after Covenant.
All eight gardens that Nicole is visiting this year are in Stratford, which are due to be visited by 2020, and two are actually on neighboring properties. The idea is to provide a good crossroads for gardeners in different parts of the city.
Some gardens were planted 75 to 100 years ago and were then cared for by various property owners, while others, such as Robertson and Ross Garden, did not last long but were not impressive.
"Stratfords is just a sample of the different types of gardening they are working on," Nicole said.
This year's Garden Tour Pass's $ 15 or $ 25 each, can now be purchased at Cosin Garden Stratford and Sebringville Garden Center. Maps for the tour and a walkway can be purchased at Stratford Municipality from 9 a.m. to 1 p.m.
Nicole says the tour is for those who are interested in a little exercise, and that the best way to see all the gardens is by bicycle or other vehicle.
Follow Stratford and District Horticulture Society on Facebook for more information.
gsimmons@postmedia.com