The White House has received more than 80,000 signatures in a petition calling for Jill Bedden to restore the Garden.
Former First Lady Melania Trump announced in August last year the extensive renovation of the garden, which is often used as a venue for press conferences and receptions.
After being replaced by Jackie Kennedy in the early 1960s, he revived social media by reviving people by criticizing his decision to remove the many leaves and colors that had always been in place.
President Bashar al-Trump took to Twitter on Saturday to mark the one-year anniversary of Rose's garden.
On their Twitter page, along with a photo of the current design, the veteran who quickly turned to the virus said, "The search for the White House Rose Garden ended this month a year ago, and here was a tragic result – American history has been lost for decades.
Meanwhile, the demand for change to reverse Trump's first lady has received new attention.
Liz Tapanes began his appeal in April by asking Beden and Doug Emhof, the wife of Vice President Kamala Harris, to restore his garden before Trump's renovation.
As of Sunday, the petition had more than 81,000 signatures, with a target of 150,000. By the end of April, the complaint had passed the 50,000 mark.
Tapanes wrote in his complaint that Kennedy's legacy had been "snatched" by Trump's redesign.
"Trump removed Japanese trees, Japanese gifts, and other leaves and replaced them with a boring tax," Tapanes wrote.
Jackie's legacy Kennedy was separated from Americans who remember everything he had for us. We want Jill Biden and Doug Emhoff to take this and bring Rose Garden back to Jackie's original design.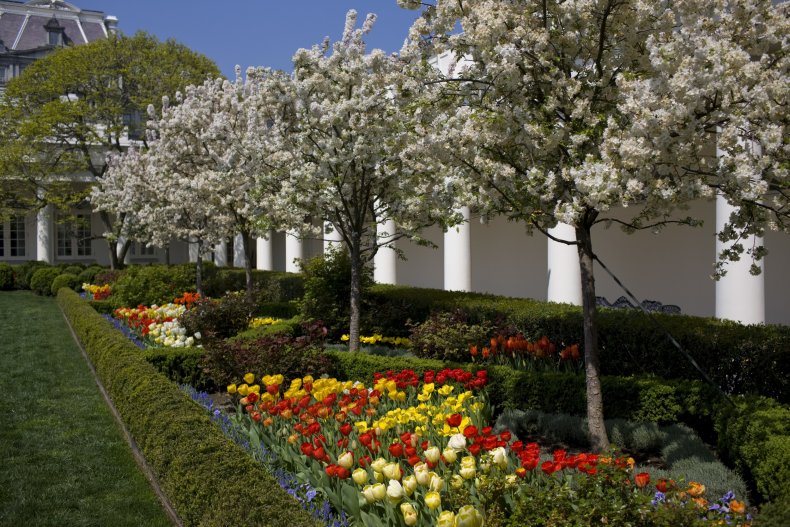 In 1961, during a visit to France and other stops in Europe, President Kennedy wanted to rediscover the Rose Garden, Rachel Lambert Melon reported late.
He told the White House Historical Society: "The president has noticed that the White House has no equal in quality or entertainment than the gardens he has seen and enjoyed in Europe."
There he realized the importance of gardens around public housing and the emotional appeal of everyone.
Melon said she was inspired to walk down New York's Fifth Avenue and see "three magnificent mango trees growing in front of the Freak Museum."
Contact the White House for comment.